ICEWAVE, the rising star brand in the vaping industry, stole the show at the Vaper Expo October 2023 which was held at the NEC Birmingham. Numerous representatives from the top industry media, such as POTV, had been invited to attend the new products conference on Oct. 27th and witnessed the technical prowess of ICEWAVE B600 and ICEWAVE T600. Vape Paul, the top KOL with over 1 million fans, has performed vape tricks by ICEWAVE new products on site, attracting many audiences.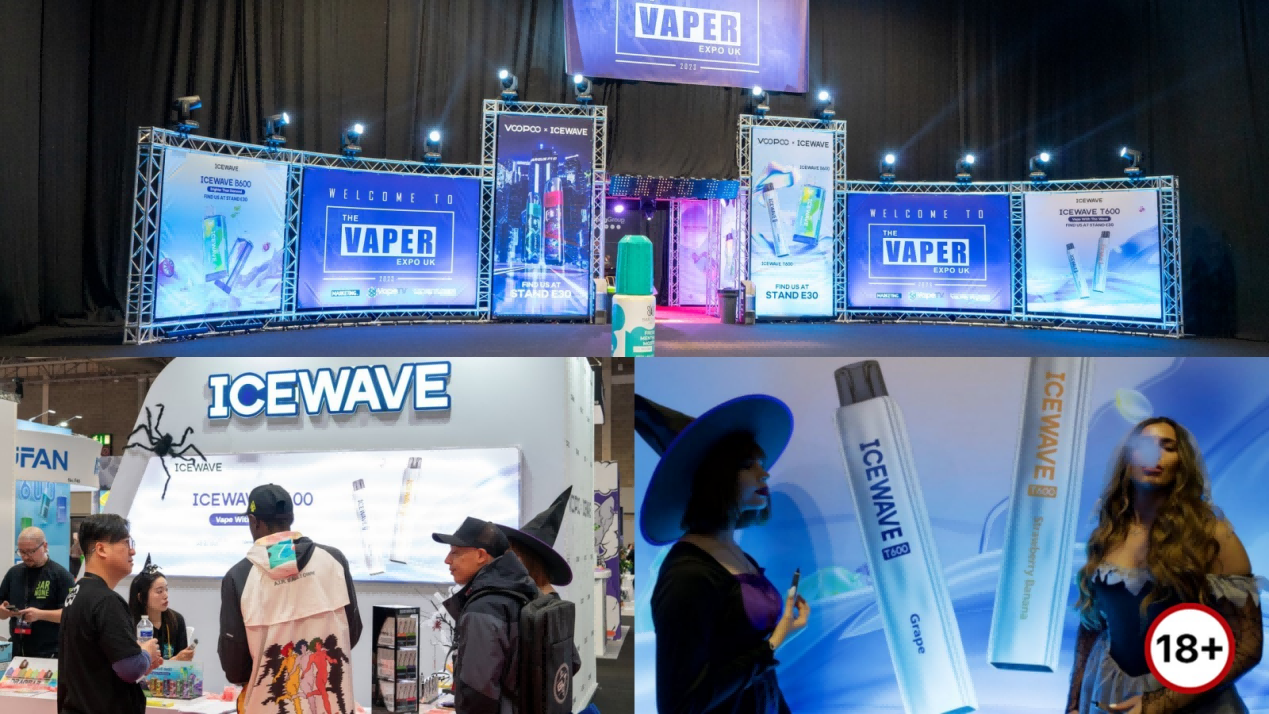 ICEWAVE comes from the world's leading vaping company ICCPP Group. After years of technology development and industry insight, ICCPP launched ICEWAVE for the following reasons. First, adhering to the philosophy of user-centred and conducting comprehensive user research, ICEWAVE develops products with regional characteristics in a culturally appropriate way. Secondly, ICEWAVE tailors products to the local conditions, and mixes exclusive e-liquids that are unique to each market. Finally, ICEWAVE adheres to an increasingly detailed global compliance policy to ensure that its products comply with local policies and regulations.
Based on the above reasons, ICEWAVE has been completely upgraded in these three main points.
1)The mesh coils have been upgraded to ensure consistency of flavour and improve flavour reproduction by 30%.
2)The exclusive patented anti-leakage technology greatly improves the encapsulation effect.
3)ICCPP robustsensory analysis sector which was developed by EVEREST Lab ensures total compliance with all local legislation whist offering the strictest of quality controlls to ensure users are left with the best quality final product.
It was also announced that ICEWAVE has been shortlisted for this year's UKVIA Industry Recognition Awards, which is both recognition and encouragement for a new brand. During the exhibition, ICEWAVE gained very good evaluations from visitors. The products not only adopts UK-inspired E-liquid that is specially formulated by British E-liquid master, but also makes bold innovations in function and the CMF design, which greatly improves the convenience of operation and elevate the customer experience.
ICEWAVE T600(RRP: £4.99) features the liquid-metallic appearance and an all-in-one electroplated texture shell that strongly upgrades of gripping experience. Not only that, it is equipped with newly upgraded mesh coils that can restore the consistency of flavour to largely.
The most distinctive feature of ICEWAVE B600(RRP: £4.99) is the three-colour battery indicator is configured at the bottom, which can help consumers to understand the battery situation at anytime and anywhere. It uses a gem-like pattern combines with the gradient colors and irregular facets, with a cool shape also features an ergonomic design that brings comfortable gripping experience.
The Birmingham show was another grand success for ICEWAVE in overseas exhibitions, where they took the lead in crane machine game to interact with visitors, becoming a spectacle of the exhibition. Besides, professional reviewers have also praised it for its unique and cool appearance, as well as its longer battery life and more durable vaping compared to other vapes.