ICEWAVE, which is the industry's 1st disposable vape with an ultra-large screen and its original creative letter design, will anticipate VapeCon SA 2023, which will be held at the Heartfelt Arena, Pretoria,South Africa from August 25-27.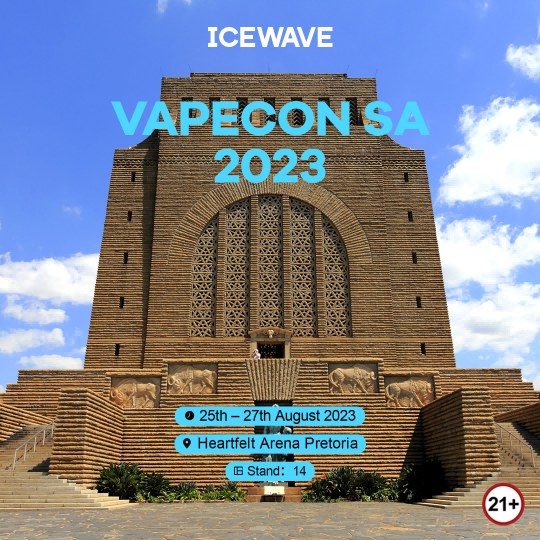 Vapecon is South Africa's first electronic cigarette convention. The first one was held in 2015 and continues to grow. As one of the largest consumer goods expos, Vapecon attracts more than 100 vendors and 6500 attendees from all around the world.
With "WAVE NEVER ENDS" as brand slogan, ICEWAVE advocates self-expression and a lifestyle of individuality, and provides global users with safe design and strong performance of traditional tobacco alternatives. Its first product named ICEWAVE X8500 has received critical acclaim from consumers since it was launched in US market last month.
According to the veteran from the industry, the portable ICEWAVE X8500 has a great taste of coolness and smoothness, since it is originally developed by the US e-juice expert. The transparent and cool design formed a new fashion of the industry. Meanwhile, the ultra-large power and e-juice display meets the market needs, which set the customers free from e-juice and power anxiety.
Considering the preferences of local consumers from SA, ICEWAVE will feature a full range of flavors of the product and showcase its advantages to thrive in today's competitive landscape. Subsequently, interested visitors can visit the Stand 14. to view and experience a wide range of products directly.
About ICEWAVE:
ICEWAVE comes from its parent company ICCPP, who has years of experience in powerful technology, innovation and manufacturing. ICEWAVE aims to bring the ultimate vaping experience to users globally, with great looking disposables, better tastes and long-lasting flavors.
*During internal testing, ICEWAVE X8500 can support 8500 puffs at maximum. The actual number of puffs will be affected by personal vaping habits.
WARNING: This product contains nicotine. Nicotine is an addictive chemical.