40 days after launch, ICEWAVE with its first product ICEWAVE X8500, stands out of more than 8,500 entries worldwide and has been crowned as a 2023 MUSE Design Awards Silver winner, one of the most influential international design competitions.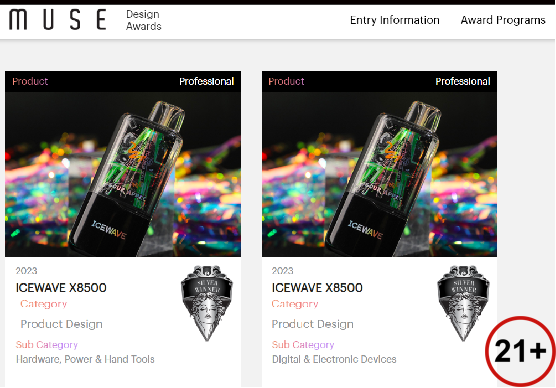 Established by the International Awards Associate in 2015, the MUSE Design Awards is dedicated to recognizing excellent and original design work from across the globe. It is famous for the blind judging while more than 200 judges are selected based on experience, credibility and availability. This time ICEWAVE won this award, which means it has gained more and more international recognition.
ICEWAVE X8500 is the industry's first disposable vape with ultra-large screen that displays battery and e-liquid level, which frees users worries over battery and e-liquid depletion. The transparent shell with the creative letter-design has received positive feedback from reviewers as it is simple, yet informative and intuitive to understand.
Adhering to the long-term concept of user-centered, ICEWAVE focuses on technology and innovation in order to empower users with high-quality products. The upgraded Mesh Coil inside ICEWAVE X8500, bringing 500% of consistency improvement along with 45% of flavor reproduction and 30% of puffs promotion, delivers exquisite and rich flavors of each puff.
Because of its excellent performance, ICEWAVE X8500 has won two silver awards within Hardware, Power & Hand Tools category and Digital & Electronic Devices category. The recognition from the MUSE Design Awards constitutes the basis for the continuous improvement of ICEWAVE international influence. These two awards encouraged ICEWAVE to continue its efforts to become the leading wave of the industry.
For more information, please visit the www.icewave.com.
About ICEWAVE:
ICEWAVE comes from its parent company ICCPP, who has years of experience in powerful technology, innovation and manufacturing. ICEWAVE aims to bring the ultimate vaping experience to users globally, with great looking disposables, better tastes and long-lasting flavors.
*During internal testing, ICEWAVE X8500 can support 8500 puffs at maximum. The actual number of puffs will be affected by personal vaping habits.
WARNING: This product contains nicotine. Nicotine is an addictive chemical.